CITY MANAGER
CONTACT and LOCATION
Jeff Blackburn, City Manager
City Hall
201 W. Chaco St.
Aztec, NM 87410
⇩ Location Map
[PDF 108 KB]
(505) 334-7602 - office
(505) 334-7609 - fax
➠
Monday - Thursday
7:00 am to 6:00 pm
The position of City Manager is appointed as provided by law and has the term provided by law. The City Manager is the head of the executive branch of the government and shall be responsible to the city commission for the efficient administration of city government.
Mission Statement
"Our purpose is to continuously enhance our community's vitality and overall quality of life. We are committed to providing high quality, cost-effective municipal services and forming productive partnerships with our residents and regional organizations. We collectively develop, share, and are guided by a clear vision, values, and meaningful objectives."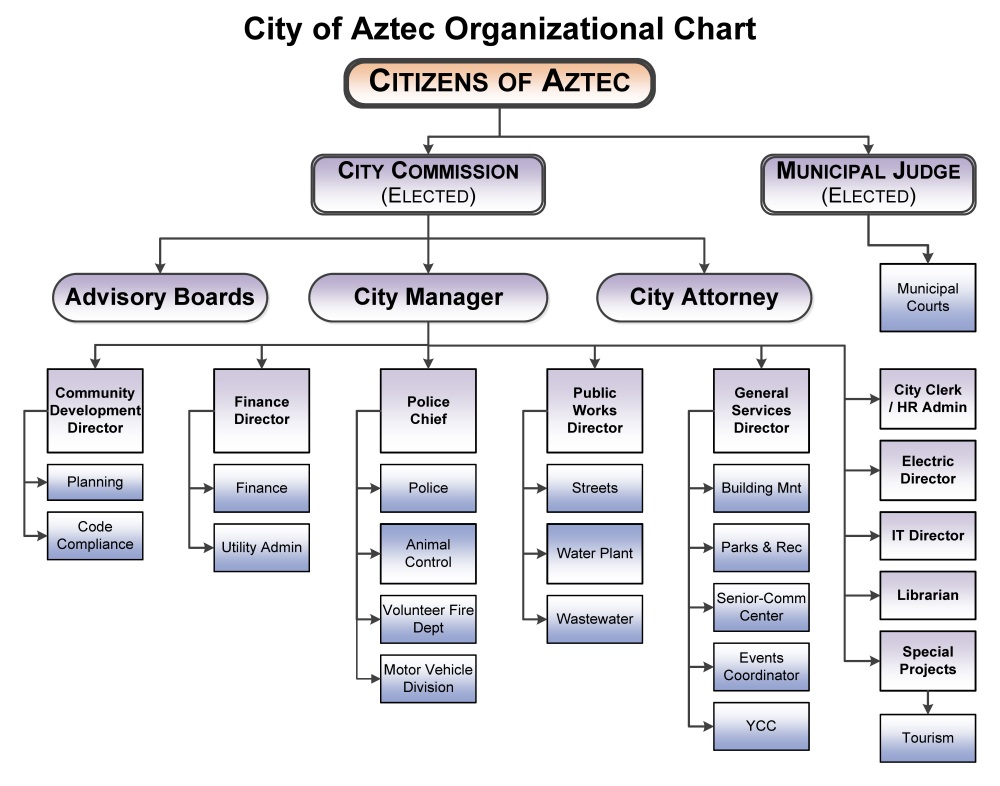 OTHER DUTIES
City Commission
Advises the city commission as to the financial condition of the city, supervises the preparation of all financial reports, including the annual budget and those reports requested from time to time by the city commission, to be presented to the mayor and commission members. Recommends to the commission in writing for its consideration such measures that he/she may deem necessary or expedient. Participate in construction of pay plans for all departments of the City.


City Commission Meetings
Attend all meetings of the commission unless excused there from by the commission or by the mayor. Sees that laws and ordinances are endorsed and that the provisions of all franchises, leases, contracts, permits, and privileges granted by the commission are observed.


City Policies / Procedures
Reviews and revises City policies and procedures as necessary. Formulates and recommends to the mayor and city commission the adoption of such measures as may, from time to time, deem necessary or advisable for the health, safety and welfare of the city and its inhabitants, or for the improvement of administrative or departmental functions and services. Responsible for and overseeing the writing and administration of city grants and special funds.