CONTACT and LOCATION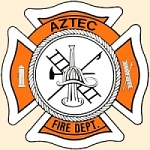 Kevin Simpson, Fire Chief
Fire Department
201 W. Chaco St.
Aztec, NM 87410
⇩ Location Map
[PDF 108 KB]
911 - emergency dispatch
(505) 334-6622 - non-emergency dispatch
(505) 334-7607 - for burn permits
(505) 320-4687 - discuss fire issues
(505) 334-7634 - fax
➠
VOLUNTEER INFO
The Aztec Fire Department is an "All Volunteer" Fire Department. No one is on duty full time at the fire station. Thanks to all those who volunteer.
If you are interested in helping your community and are 18 or over join the fire department now! To join come by the main station at 200 North Ash, behind Blake's, any Wednesday night at 7:00 pm. The members will be more than happy to tell you all about your volunteer fire department. Please think about this. Your help is needed and you can make a difference!
CODE and FORMS
Sec.8-2. Fires.
It shall be unlawful to burn brush, stumps, logs, rubbish, grass or any other material in an open fire, if the fire is unguarded and if no means are immediately available to enable the person setting the fire to prevent the escape of the fire, or to light or permit to continue to burn any open fire at any time (Code 2007, 8-2).
⇩ Chapter 8 - Fire Prevention and Protection
[PDF 99 KB]
NATIONAL FIRE INCIDENTS
National map of fire incidents occurring.