FACTS AT A GLANCE
Designator:
N19
Coordinates:
N36o50.08' W108o 01.70'
Field Elevation:
5877 ft
Facilities:
100LL
Parking tiedowns
CTAF:
Multi-Com 122.9
Traffic Pattern Altitude:
6877 ft MSL;
Pulsating light approach slope indicator (PLASI) system on Runway 8-26 that is also activated on the CTAF.
Landing Length:
Main Runaway 8-26: 4,010 x 60 ft;
Crosswind Runaway 4-22: CLOSED
Caution:
Intense flight training, R/C Models, Paraplanes, Military Operations
Hours:
24 hours
Daytime Phone
and Fuel Sales:
(505) 330-8919
Current Info:
➠ www.airnav.com/airport/N19
Aztec is one of several airports located within New Mexico that features a retroreflective landing light system. This system uses reflectors that are located along runways edge at standard intervals.
White Beacons are located for runway line up and end designators. Activate beacons by clicking 5 times in 5 seconds on 122.9 Using the aircraft landing lights will "light up" the runway reflectors at about 1-1/2 miles out.
Pulsating light approach slope indicator (PLASI) system on Runway 8-26 that is also activated on the CTAF.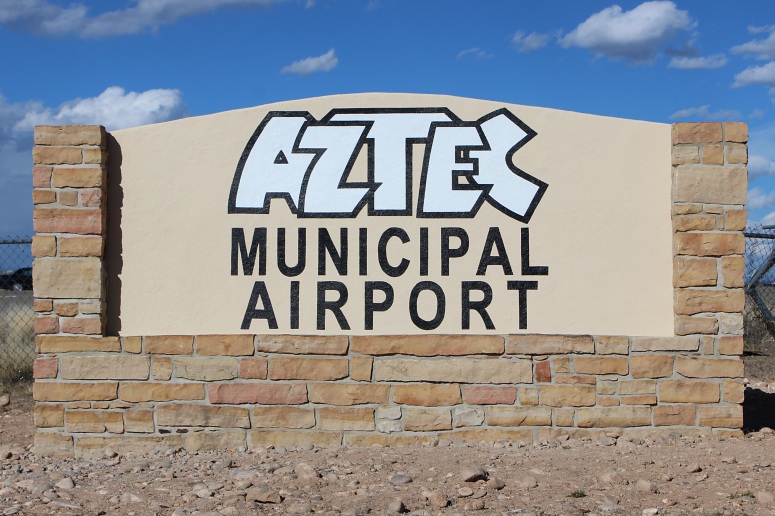 SERVICES
» Fuel Sales
(Self-serve, credit card activated)
» Courtesy Vehicles
(2 vehicles available, free of charge)
» Pilot Lounge
(Restrooms, vending machines, seating)
» Free Internet
(PC with printer)
» Tie downs available - $15/day
(Pilots should use their own tie down straps)
» Parking
(Outside of the fence for visitors and inside of the fence for pilots)
THINGS TO REMEMBER
» Check Density Altitude
» YOU are responsible for making position calls on the CTAF (122.9)
» Make a conscious GO/NO GO Decision If In Doubt, Chicken Out
ADDITIONAL LINKS