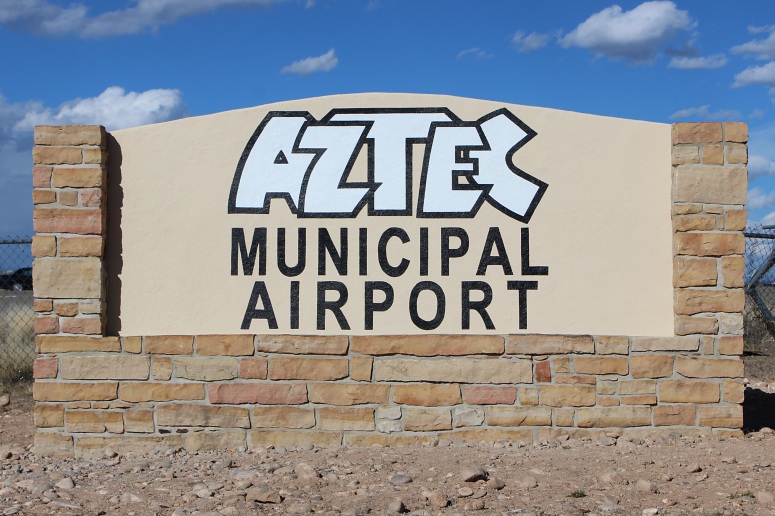 CONTACT
Wallace Begay, Municipal Airport Manager
(505) 334-7688 - office
(505) 334-7679 - fax
Monday - Thursday
7:00 am to 6:00 pm
FACTS AT A GLANCE
Designator:
N19
Coordinates:
N36o50.08' W108o 01.70'
Field Elevation:
5877 ft
Facilities:
100LL
Parking tiedowns
CTAF:
Multi-Com 122.9
Traffic Pattern Altitude:
6877 ft MSL;
Pulsating light approach slope indicator (PLASI) system on Runway 8-26 that is also activated on the CTAF.
Landing Length:
Main Runway 8-26: 4,010 x 60 ft;
Crosswind Runway 4-22: CLOSED
Caution:
Intense flight training, R/C Models, Paraplanes, Military Operations
Hours:
24 hours
Daytime Phone
and Fuel Sales:
(505) 330-8919
Aztec is one of several airports located within New Mexico that features a retroreflective landing light system. This system uses reflectors that are located along runways edge at standard intervals.
White beacons are located for runway line up and end designators. Activate beacons by clicking 5 times in 5 seconds on 122.9 Mhz using the aircraft landing lights will "light up" the runway reflectors at about 1-1/2 miles out.
A pulsating light approach slope indicator (PLASI) system is available and also activated on the CTAF.
AIRPORT ACTION PLAN 2018
The City of Aztec is initiating a study to complete an Airport Layout Plan (ALP) Update and Narrative Report for the Aztec Municipal Airport. The objective of the ALP Update and Narrative Report is to provide the City with a future development plan that will satisfy aviation demand and identify the critical aircraft, address airport issues and needs, address new FAA design standards, and update the Airport Capital Improvement Plan (ACIP).The study is expected to run six to nine months with two Planning Advisory Committee (PAC) meetings, a public information workshop, and a City Commission presentation at the conclusion of the study.
⇩ Airport Layout Plan (2021)
[PDF 6.3 MB]
⇩ Aztec Municipal Airport DBE Program
[PDF 3.7 MB]
Airport Projects
The City of Aztec, NM as sponsor for the Aztec Municipal Airport hereby announces its proposed Fiscal Year 2022-2024 Triennial DBE Goal for Disadvantaged Business Enterprise (DBE) airport construction projects as indicated below:

Fiscal Year 2022: 0.91%
Runway 8-26 Lighting & Visual Aids

Fiscal Year 2023: N/A
Apron Pavement Rehabilitation (Less than $250,000 - No DBE Goal Required)

Fiscal Year 2024: N/A
Reconstruct Airport Paving Apron South (Design) (Less than $250,000 - No DBE Goal Required)

Overall Three-Year DBE Goal FY22-FY24: 0.68%

If you would like to obtain information relevant to the goal setting process or comment on the proposed DBE goal, please email lspillers@dbeplans.com.

The airport's DBE goal methodology is based on what the airport anticipates receiving for FY 2022-2024. Significant changes to the projects as stated will require an amendment to the DBE goal.

City of Aztec
/s/ Wallace Begay
Airport Manager