COMMON LINKS
EMPLOYMENT
PUBLIC AUCTION
The City of Aztec has created An account with Public Surplus (
wwww.publicsurplus.com
). This is an on-line auction website for public surplus.
EV STATION OPEN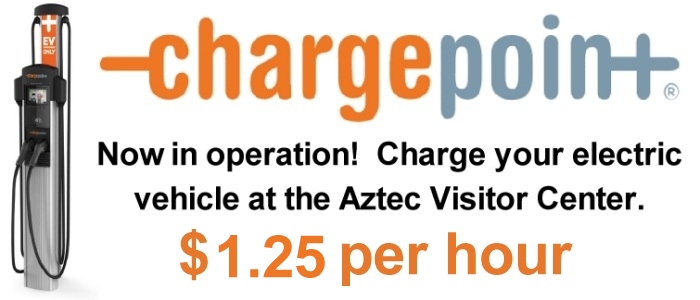 Aztec Visitor Center: 110 N Ash Ave
NOTIFICATIONS
Upcoming Commission Meetings
• July 14: Commission Meeting
• July 28: Commission Meeting
Aztec Comprehensive Plan
Steering Committee
What would you like to see Aztec become in the next 10 to 15 years? Are you interested in shaping Aztec's vision? If so, you may want to consider severing on the Steering Committee for Aztec's Comprehensive Plan. Community Development is seeking seven (7) individuals to serve on the Steering Committee for Aztec's Comprehensive Plan Update. If interested, please contact the Community Development Department for more information at (505) 334-7605.


Community Survey
The City of Aztec invites residents and business owners to participate in a community survey on how Aztec should grow and develop over the next 20 years. The survey kicks off the update to the City of Aztec Comprehensive Plan. The Plan touches on all aspects of the community, including land use, economic development, housing and neighborhoods, public services and facilities, infrastructure, transportation, hazard mitigation, and more.

Interested community members can take the survey online:

Printed copies of the survey are available on request from the City of Aztec.
The survey will remain open until August 1, 2020.
MVD Operations
AZTEC MVD is now open by appointment only.

Monday through Thursday - 7:30am to noon and 1:00pm to 5:00pm

Appointments are available every 30 minutes.

Schedule an Appointment: https://secure.mvd.newmexico.gov/InlineOnline/

Road Tests are postponed at this time Statewide, please call (505) 334-7690 to be put on the Aztec MVD - Road Test Needed List if you need a road test and want to take it in Aztec. This is not a wait list. It is a list to call back and schedule an appointment once Road Tests become available again.

Please Remember: You will need $6.00 cash for each transaction with the exception of a VIN Inspection that will be $10.00 cash. Receipts are provided. We do not accept personal checks for City Administration Fees.
City-Wide Flushing of Water Distribution System
June 1 through July 11, 2020
The Public Works Department will be starting the systematic flushing of the water distribution system in the City of Aztec on June 1, 2020. Increased water usage throughout the system is stirring up sediment in the pipes resulting in brown water at several locations throughout the city. The flushing will begin in the center of town and will move outward toward the edges. It typically takes 4 to 6 weeks to flush the entire system. Flushing is performed by opening the fire hydrants throughout the system. Each hydrant will be opened fully for at least 15 minutes and until any sediment clears. Water will be running down the streets during the flushing. Please note that the flushing program is designed to stir up the sediment to have it flow out the hydrant. This causes the sediment to move and after the flushing, the sediment can be present in the water for a couple of days. Running water in your house until the water clears up, should remove the last of the sediment. Thank you in advance for your patience and cooperation during this flushing program. Please contact the Public Works Department at 334-7660 if you have questions or require assistance during this process.
Resolution 2020-1187 Emergency Ban on Open Fires and Fireworks
The Aztec City Commission at their May 26, 2020 meeting passed Resolution 2020-1187 Emergency Ban on Open Fires and Fireworks. Details of what is allowed or prohibited is shown in the following link.


Change in City Operations - Phase 1 Re-Opening
In accordance with the most recent Governor's Public Health Order and recommendations, City facilities will remain in Phase 1 re-opening:


Important COVID-19 Information


Hotline: (505) 516-0938 or (888) 949-5387



Hotline: (855) 600-3453
NM State also has an e-mail address which is monitored 24/7. The e-mail monitors will send each complaint to the corresponding district commander for appropriate action.
Email:




The Office of the State Auditor Issues Warning for Vulnerable New Mexicans Seeking Unemployment Insurance During COVID-19 State of Emergency


➠ Site Map