COMMON LINKS
EMPLOYMENT
PUBLIC AUCTION
The City of Aztec has created An account with Public Surplus (
wwww.publicsurplus.com
). This is an on-line auction website for public surplus.
EV STATION OPEN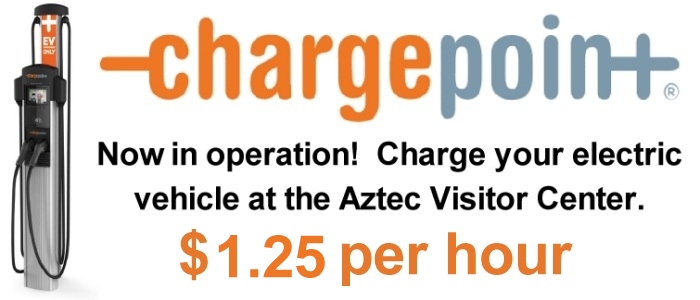 Aztec Visitor Center: 110 N Ash Ave
NOTIFICATIONS
Upcoming Commission Meetings
• May 11: Commission Meeting
• May 25: Commission Meeting
NM Emergency Rental Assistance & Utilities Program
In 2020, the U.S. Congress appropriated funding to the U.S. Department of Treasury to provide emergency rental assistance to households experiencing financial hardship as a result of the COVID-19 outbreak. Funding was allocated to states, Indian tribes ortheir Tribally Designated Housing Entities, and territories to provide Emergency Rental Assistance in the form of rental, utilities, and home energy costs assistance to eligible renters. The Department of Finance and Administration (DFA) will administer approximately $170 million appropriated for the Emergency Rental Assistance & Utilities program for the State of New Mexico.
Aztec Recycling and Trash Service Update
Every-Other-Week Recycling Collection
To make recycling easier, WM will collect your recycling every other week starting April 2, 2021.

Find Your New Recycling Schedule
Recycling will be picked up every two weeks, on either green or gold week.
• Gold week starts April 2nd - customers West of the Animas River.
• Green week starts April 9th - customers East of the Animas River.

2021 Monthly Collection Rates (Effective April 1)
• Weekly Trash & At Your Door Service: $16.27
• Every-other-week Recycling (billed regardless of subscription): $8.18
• Extra Trash Cart: $6.05
• Extra Recycle Cart: $8.18
Important COVID-19 Information
Hotline: (505) 516-0938 or (888) 949-5387




Hotline: (855) 600-3453
NM State also has an e-mail address which is monitored 24/7. The e-mail monitors will send each complaint to the corresponding district commander for appropriate action.



➠ Site Map