COMMON LINKS
EMPLOYMENT
PUBLIC AUCTION
The City of Aztec has created An account with Public Surplus (
wwww.publicsurplus.com
). This is an on-line auction website for public surplus.
NOTIFICATIONS
Upcoming Scheduled Commission Meetings
• September 25: Commission Meeting
National Public Lands Day - September 22, 2018
The Bureau of Land Management and the City of Aztec are participating in National Public Lands Day by conducting clean-ups in the area. The Aztec Clean-up will be at the Aztec Motocross and Hart Canyon Arch!
➠ More Details to Volunteer (PDF 134 KB)
Library Community Needs Survey 2018
The Aztec Library is conducting a Community Needs Survey. Please help us determine what our Library needs to do to better serve you.
General Election - November 6, 2018
Find out any election information such as voter registration, early voting times, absentee voting, voting locations, etc. from the San Juan County Clerk's Office:
EV Station is Now Operational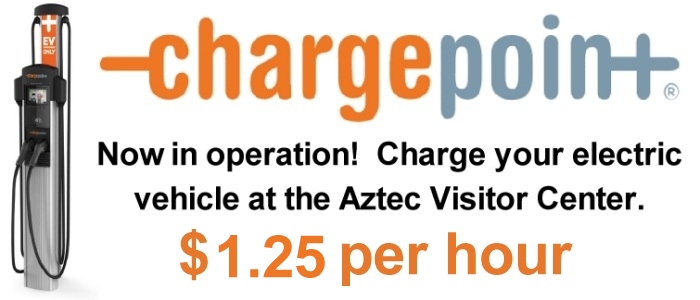 ➠ More Info
➠ Setup Your -chargepoint+ Account
Stage 2 Water Shortage Emergency
As of July 2, 2018, the City of Aztec has implemented Stage 2 water shortage emergency and will remain in place until further notice. Stage 2 is mandatory and may result in Warning Notices followed by penalties assessed to your water bill for repeated violations.
Ban on Open Fires and Fireworks has been Lifted
The Aztec City Commission passed Resolution 2018-1099 which rescinded (lifted) the ban on open fires and fireworks (Resolution 2018-1084).
Water Restrictions and Other Notices in the San Juan County Area
Bicycle + Pedestrian Master Plan
The Farmington Metropolitan Planning Organization (FMPO) is engaged in planning the next generation of bicycle and pedestrian infrastructure. This project will help the FMPO prioritize future bicycle and pedestrian improvements that will increase cyclist and pedestrian safety, create accessible routes, connect communities, and promote the health and wellness of all residents. Investing in regional bicycle and pedestrian facilities has multiple benefits for both individuals and the community at large. These benefits include potential improvements to public health, safety, connectivity, and environmental well-being. In addition, there are multiple economic benefits associated with walking and cycling, including tourism promotion and lower transportation costs for individuals.